A pickled carrot is a carrot that has been pickled in a brine, vinegar, or other solution and left to ferment for a period of time, by either immersing the carrots in an acidic solution or through souring by lacto-fermentation.
 Pickled carrots are often served with Vietnamese cuisine including Banh mi or as a component in an appetizer.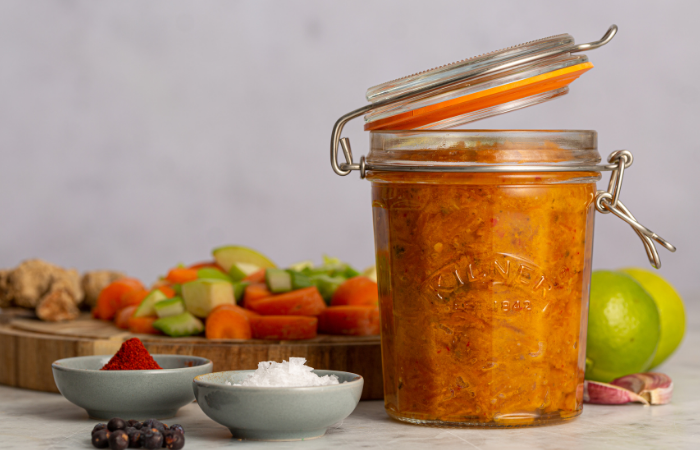 Carrot Chutney
Chutney is made from fruits, vegetables, and/or herbs with vinegar, sugar, and spices. It's used to provide balance to an array of dishes, or highlight a specific flavor profile.
Ingredients
1

Kilogram(kg)

carrot

1

raw green pawpaw if available

2-3

raw mangoes(if available)

few green chillies

1

dry red chilli

Salt to taste

3/4

oil

50

Gram(g)

coarsely ground fenugreek seeds

50

Gram(g)

coarsely ground mustard seeds,skinne

2

tablespoon(tbsp)

lemon juice

25

Gram(g)

turmeric

25

Gram(g)

red chilli powder

3-4

Teaspoon(tsp)

salt

2

Teaspoon(tsp)

coriander/cumin powder

50

Gram(g)

coarsely ground coriander seeds

3

Clove

garlic cut into small pieces
Instructions
1 Peel the carrots and the raw pawpaw. Wash and let them dry

Cut the mangoes, green chillies, carrots and pawpaw into thin strips and put into a glass bowl

Rub well with salt. Spread onto a tray and leave to dry for a while

Mix the mustard, turmeric, coriander seeds, fenugreek seeds, chilli powder, coriander/cumin powder, salt and garlic in a bowl

Add the lemon juice and make into a thick paste. Taste, adding salt if required

Heat the oil in a small pan. When hot, add the dry red chilli and turn off the heat

After a few seconds pour this oil on the prepared paste. Stir well with a wooden spoon and let it cool

When this paste is cold, mix with the carrots, pawpaw, mangoes and chillies

Bottle in an air-tight jar