According to food history, ginger nuts have been enjoyed in Britain since the 1840s and they were the best selling goodies of Huntley & Palmers from 1933 right up to the close of World War II.
In the United Kingdom, Australia, and New Zealand, these biscuits are best enjoyed with tea. Their hard texture makes them one of the best dunkable biscuits in the English regions. In other parts of the world, they are formed into different shapes before the baking process.
 As they say, if you value your teeth, you should definitely dunk your ginger biscuits in your tea or coffee. In other regions, ginger biscuits are baked really hard; hard enough that it can hurt if thrown at someone.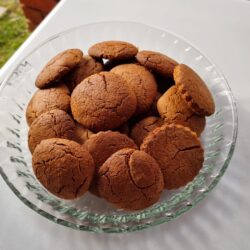 Ginger Biscuits
Ginger biscuits may help in treating nausea and motion sickness. In other studies, consumption of ginger was proven to help in treating cold sweating and vomiting. 
Ingredients
3 or 4

cups

cups flour

1

cup

brown sugar

8

teaspoon

ginger

250

grams

soft magarine

3

teaspoon

cinamon

2

teaspoon

baking powder

1

teaspoon

baking soda

1/2

cup

golden syrup or mix apricot jam and cooking oil

2

eggs
Instructions
Preheat your oven to 200degrees

Add all dry ingredients and sift together

Add magarine till it resembles crumbs

add eggs then syrup or your Jam mixed with oil

Mix everything till combined

make balls from the daugh and flaten with the palm of your hand